Shelby Carney
Marketing and Communications Coordinator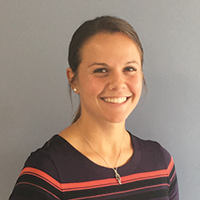 Name: Shelby Carney
Title: Marketing and Communications Coordinator                                          
College: Emerson College 
Major: Marketing and Communications                              
College Sport: Softball 
Hometown: North Reading, MA                                        
Current home: North Reading, MA     
Favorite Athlete: Jennie Finch                  

BIO:
Shelby Carney joined Team IMPACT in August of 2017 and serves as the Marketing and Communications Coordinator. In her role, she assists the Director of Marketing and Communications in managing all aspects of the organization's marketing, with the goal of building awareness to recruit more kids, college athletic teams, partners and supporters.
Carney, originally from North Reading, MA, received her undergraduate degree in Marketing Communications, with a minor in business in 2017 from Emerson College. While at Emerson she was a four-year member of the softball team, and a two-year captain. She received Emerson College's Scholar Athlete award in 2017, and was named to the NEWMAC Academic All-Academic team during her sophomore, junior, and senior years. Carney loves sweets, especially anything chocolate, and is an avid New England sports fan!
When asked the question, "Why Team IMPACT?" Shelby said: 
Looking back, athletics has had a huge influence on who I am today. Playing sports helped me make life-long friendships, and gave me a determined and positive outlook on life. When the opportunity arose to work for Team IMPACT, I knew I had to take it – so I could fulfill my passion of doing work that positively impacts the lives of others, while working for an organization that provides children with the opportunity to be a part of something that has given me so much over the years. I continue to be inspired by the strength and courage these children exhibit, and am honored to be able to share their incredible stories with the world.