Rose Bhinsen, MSW
Case Manager, Mid-Atlantic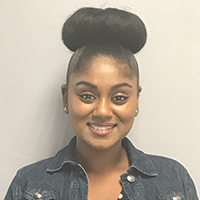 Name: Rose Bhinsen
Title: Case Manager
College: Curry College
Major: Psychology
Grad School: SUNY Buffalo
Hometown: Queens, New York
Current Home: Boston, MA
Favorite Athlete: Colin Kaepernick, Usain Bolt

BIO: 
Rose Bhinsen joined Team IMPACT in April 2018 and serves as the Case Manager for the Midwest region. In her role, she helps families and teams navigate their new relationship, and manages and cares for all aspects of the relationship between Draft Day and Graduation.

Bhinsen earned her Masters in Social Work from SUNY Buffalo and her undergraduate degree in Psychology from Curry College. Prior to coming to Team IMPACT, Bhinsen Rose worked for the Somerville Public Schools as a Preschool Lead Teacher and ELA tutor. She also has several years' experience working with youth and families in both the hospital and treatment program settings. Bhinsen grew up in Queens, New York and currently lives in Boston. She enjoys listening to music, dancing and traveling the world when time and money permit.
When asked the question, "Why Team IMPACT?" Rose said:
The mission of Team IMPACT is truly incredible, and I wholeheartedly believe in it which is why I was so excited to accept this position. I am honored to be a part of a team that really strives to provide the best experience and support for both the families and teams that join our program.