Rachel Rogovin, LICSW, OSW-C
Director of Clinical Services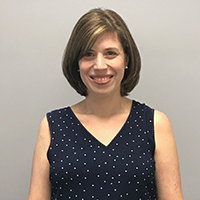 Name: Rachel Rogovin
Title: Director of Clinical Services
College: Boston University
Major: Psychology
Grad School: Simmons College, MSW
Hometown: Bellingham, MA
Current Home: Bristol, RI
Favorite Athlete: Billie Jean King

BIO: 
Rachel Rogovin joined Team IMPACT in March of 2018 and currently  serves as the Director of Clinical Services. In this role, she is responsible for the oversight of the case management team.
Prior to joining Team IMPACT, Rogovin spent 12 years at Hasbro Children's Hospital in Providence, Rhode Island, where she worked as the lead Pediatric Oncology Clinical Social Worker.  Since 2014 Rogovin has served on the Board of Directors for the Association of Pediatric Oncology Social Workers as the Chair of Communications and Social Media. She is the proud mom of a pre-schooler and loves reading stories, building towers, and looking for sea shells.
When asked the question, "Why Team IMPACT?" Rachel said:
Joining Team IMPACT has given me the opportunity to improve the quality of life for children with chronic and serious illness on a national scale.