Kris Herman
Board Member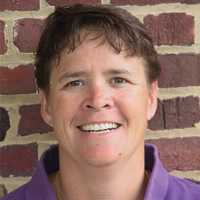 Kris Herman has been an instrumental figure in collegiate softball since beginning her coaching career at Tufts University in 1988.
In May of 2010, she became only the 26th Div. III coach to reach the 500-win milestone in NCAA history. The milestone victory came in her 23rd season of coaching, her seventh at Williams.
Over the past two seasons, Herman has guided her Ephs to back-to-back NESCAC West Division titles and at-large berth into the NCAA Div. III Tournament. The Ephs hosted an NCAA Regional for the first time in program history in 2014 and repeated the feat in 2015. 
Herman began her coaching career at her alma mater, Tufts, in 1988. She coached the Jumbos for 16 seasons and compiled a record of 339-164-3 (.679), winning five NESCAC titles and guiding her team to an NCAA Tournament appearance in her last seven seasons at the school. Tufts also made its first NCAA World Series appearance under Herman.
In 2004, Herman shifted to Williams, where she promptly led the Ephs to three straight NESCAC Championships (2004, 2005, 2006). In 2005 and 2006, Williams advanced to the NCAA College World Series as well.
Herman was named NESCAC Coach of the Year four times and earned New England COTY honors in 2001, 2005 and 2006.
In her 24 seasons, Herman has coached 11 All Americans and 30 First Team All-New England players.
In May of 2011 Herman was elevated to Senior Women's Administrator at Wiliams where she will fill in for the athletic director as needed, attend NESCAC and NCAA meetings, serve as an official contact person with the NCAA for Williams, along with organizing the evaluation of junior faculty in the Eph athletic department, game management, and tournament administration.
Overall, Herman has a 651-400-5 (.619) record. From 1997-2006, Herman coached her teams to nine consecutive conference championships.
B.A. Political Science, Tufts University 1986
M.A. Secondary Education/Teaching, Tufts 1989