Kathleen Pedrosa
Regional Director, Programs - West Coast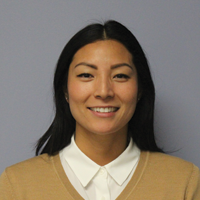 Name: Kathleen Pedrosa
Title: Regional Director, Programs – West Coast
College: York University
Major: Kinesiology & Health Science
College Sport: Basketball
Hometown: Toronto, ON, Canada
Current Home: San Jose, CA
Favorite Athlete: Michael Jordan

BIO:
Kathleen Pedrosa joined Team IMPACT in January 2017, and serves as the Regional Director of Programs, West Coast. Pedrosa brings over 8 years of experience working in the private and public health sectors. She earned her BA in Kinesiology and Health Science from York University and is a certified Project Management Professional.  Pedrosa grew up in Toronto, ON, Canada and traded in her winter boots and mittens for a pair of flip flops and sunscreen when she moved to San Jose, CA.  She is a lover of all sports, food and of nature, and you will probably find her eating or outside doing some sort of outdoor activity like surfing or hiking.

When asked the question, "Why Team IMPACT?" Kathleen said:
Team IMPACT is truly a special organization and program that's mission of improving the social and emotional wellbeing of children and families through team and sports really hits home for me. I am a lover and participant of all sports and I understand the significant impact that sports can have on an individual, so it's a privilege to be a part of, and work alongside so many hardworking and dedicated individuals who share the same passion for helping sick children and positively impacting the character development of our next generation.