Danielle Calabro, MS
Case Manager, Mid-Atlantic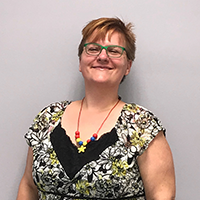 Name: Danielle (Dee) Calabro
Title: Case Manager
College: Saint Anselm College
Major: Psychology
Grad School: Southern New Hampshire University, MS, Forensic Psychology
Hometown: Plainfield, NH
Current Home: Boston, MA
Favorite Athlete: Mia Hamm

BIO: 
Dee Calabro joined Team IMPACT in April 2018 and serves as the Case Manager of the Mid-Atlantic Region. In her role, she manages the relationships between the families and teams in the Mid-Atlantic Region from the initial match up through their Graduation from the Team IMPACT program. Additionally, as Case Manager, she monitors and measures each child's improvement in the specific areas of confidence, optimism and sense of belonging.

Calabro brings over 14 years of experience in child protective services, emergency medical services and foster care recruitment and development, most recently employed at the MENTOR Network of Massachusetts.  She earned her Bachelor of Arts in Psychology from Saint Anselm College, and her Master of Science in Forensic Psychology from Southern New Hampshire University. Calabro grew up in New Hampshire on a farm,  currently lives in Boston and hopes to live in the country again someday. In her off time, she can be found wrangling her two kiddos, cooking paleo friendly meals,  hiking in state parks, attempting to garden, and maybe finishing the baby blanket she started knitting her son approximately 8 years ago.
When asked the question, "Why Team IMPACT?" Dee said:
During my last job search I had promised myself to find a job I could feel excited about and be completely motivated to engage in every day, even on the tough days. At Team IMPACT, I found a group of incredibly compassionate, driven and dedicated individuals who fully embrace making a difference in the lives of families, student athletes, and the community as well as supporting co-workers and  I am so happy to be a part of this group of change agents.