Bay-Lee Power
Engagement & Corporate Partnerships Manager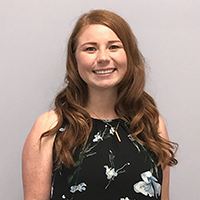 Name: Bay-Lee Power
Title: Engagement and Corporate Partnerships Manager
College: Northeastern University
Major: Psychology
Hometown: Thousand Oaks, CA
Current Home: Boston, MA
Favorite Athlete: Jayson Tatum
BIO:
Bay-Lee Power joined Team IMPACT in July 2017, and serves as the Engagement and Corporate Partnership Manager. In her duel role, she works to develop engagement opportunities for families, teams, volunteers, donors, and anyone else looking to help further Team IMPACT's mission. She also manages the relationships of Team IMPACT's corporate partners, while developing opportunities to best engage their employees.
Prior to Team IMPACT, Power spent two years serving as an AmeriCorps Member with City Year Boston. Power grew up in Westlake Village, CA and currently lives in Boston's South End. She is a 2015 graduate from Northeastern University where she earned her BS in Psychology. In her spare time, you can find Power relaxing at the beach, trying new restaurants in Boston, or traveling with friends and family.
When asked the question, "Why Team IMPACT?" Bay-Lee said:
Team IMPACT allows me to pursue my passion for supporting families through one of the most difficult times in their lives, improving the quality of life for children with serious medical conditions, and empowering and educating student athletes to better understand the power they have as young people to give back and drive change in their communities.