Amanda Palmer
Regional Director, Development – Mid-Atlantic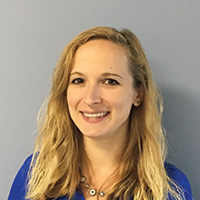 Name: Amanda Palmer
Title: Regional Director, Development – Mid-Atlantic
College: Muhlenberg College
Major: History & Religion Studies
Favorite Athlete: Paul O'Neil




BIO: 
Amanda Palmer joined Team IMPACT in July of 2017 and serves as the Regional Director, Development for the Mid-Atlantic region. In her role, she focuses on hospital and campus outreach and programming as well as development for the region. Prior to Team IMPACT, Palmer worked as a Director of Development for Children's Hospital of Philadelphia, overseeing major gifts fundraising for hospital-wide initiatives, and Villanova University as a tri-state regional gift officer.

Palmer grew up in Flemington, NJ and currently lives in Philadelphia, PA. She received her BA from Muhlenberg College. In her free time, Palmer enjoys barre classes, traveling, and football Sundays. She is also a proud dog mom to her 3-year old rescue, Bandit.
When asked the question, "Why Team IMPACT?" Amanda said:
Team IMPACT is an incredible organization that serves two great needs: 1) supporting children and their families through their medical journey both in and out of the hospital and 2) educating future leaders, current college-athletes, about something they cannot learn in the classroom or on a field, especially around empathy and civic-engagement, which society can alway use more of.  As someone who worked in both the children's hospital setting, and in higher-education, Team IMPACT fills a gap that no one else can fill.