Second Annual Team IMPACT Open – Tennis Tournament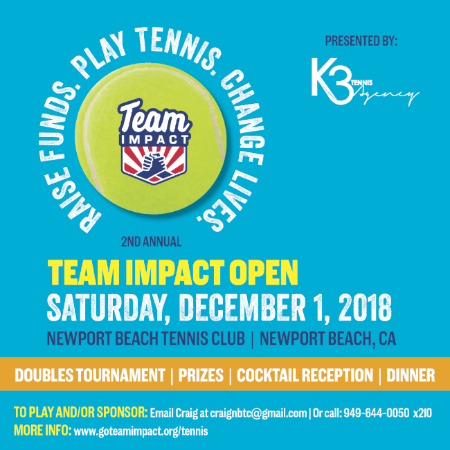 Raise funds. Play tennis. Change lives. 
On Saturday, December 1, Team IMPACT will host its second annual Tennis Open, presented by K3 Tennis Agency! Thirty-two doubles teams will compete for great prizes, all while raising money for one incredible cause: Team IMPACT.
Team IMPACT is a national nonprofit that connects children facing serious and chronic illnesses with local college athletic teams forming lifelong bonds and life-changing outcomes. Since 2011, they have matched nearly 1,600 kids with college athletic teams on more than 500 college campuses in 48 states—including several here in California! 
Learn more about the organization and the critical need for your funding by visiting their website (www.goteamimpact.org) and by following them on social media @goteamimpact. 
To support a team, click here.