Mid-Atlantic Region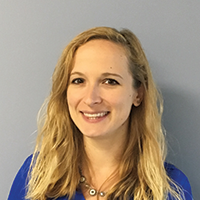 In 2017, Team IMPACT opened its Mid-Atlantic Regional office, based in Philadelphia, PA. Amanda Palmer serves as the Mid-Atlantic Regional Director, and devotes her time to expanding Team IMPACT's footprint by forging strong relationships with the region's medical and collegiate communities, and generating philanthropic support to achieve our bold vision for the future.
To learn more or get involved, contact Amanda at: amanda@goteamimpact.org or (215) 266-3446.


Mid-Atlantic Board of Advisors:
Brad Krouse

Dan Bernstein

Michael Carr

Chris Dodson

Dr. Christopher Dodson is a Board Certified Fellowship Trained Sports Medicine Orthopaedic Surgeon at the Rothman Institute. Dr. Dodson received his BA in Biology at Brown University where he played Division I varsity soccer and went on to attend Medical School at Brown University as well. He did his residency at the Hospital for Special Surgery in New York where he also went on to do a Fellowship in Sports Medicine and Shoulder Surgery. Dr. Dodson is an Associate Professor of Orthopaedic Surgery at Thomas Jefferson University Hospital/Rothman Institute where he specializes in sports related injuries of the shoulder, elbow and knee. His clinical interests include shoulder instability, ACL reconstruction, rotator cuff tears, and elbow injuries in overhead athletes. He serves as Head Team Physician for the Philadelphia 76ers Basketball Team and Assistant Team Physician for the Philadelphia Eagles and the Philadelphia Flyers. Professionally he is a member of the American Academy of Orthopaedic Surgeons, American Orthopaedic Society for Sports Medicine, American Society for Shoulder and Elbow Surgery, Arthroscopy Association of North America, Pennsylvania Orthopaedic Society, NFL Team Physician Society, American Orthopaedic Association, The Council on Sports Medicine and is a past member on the Board of Trustees for the Philadelphia Orthopaedic Society. Dr. Dodson is the recipient of Philadelphia Magazine 2017 Top Doctor Award, Main Line Magazine Top Doctor Award, Philadelphia Business Journal Top 40 Under 40, Suburban Life Magazine Top Doctors and Philadelphia Tribune Magazine Top 10 Under 40. He is the author of over 60 peer-reviewed journal articles and book chapters and lectures on the topics of ACL repair, rotator cuff tears and knee, shoulder and elbow injuries in athletes.

Brad Korman

Bradley J. Korman

Mr. Korman is Co-CEO of Korman Communities, Inc. The Company is one of the largest owners and managers of multi-family properties in the region with a portfolio of 24 properties, and total market capitalization in excess of $2 Billion. The Company operates throughout major markets in the United States, and is based outside of Philadelphia, PA. The Company was the innovator of short-term furnished apartments in the United States over 50 years ago, and Mr. Korman is a member of the fourth generation to lead this company. The Company operates two brands, AVE and AKA. Its AVE properties feature full service multifamily operations at prime, infill locations. The Company introduced its AKA brand in 2004, an upscale, urban high-rise concept with properties located in New York City, Philadelphia, PA, Washington, D.C., Beverly Hills and West Hollywood, CA, and London.

Mr. Korman has lead the acquisition, development and financing program of all new properties by the Company, including the entrance into new markets such as New York City, Los Angeles and London. This growth has allowed Korman Communities to establish relationships with some of the largest and most respected financial and lending institutions in the country. Mr. Korman oversees all new business development, including debt and equity relationships, throughout the Company.

Mr. Korman serves on the Board of Trustees of The Philadelphia Police Foundation, Germantown Academy, Team IMPACT and the Duke University Library Advisory Board. He is also a member of the JFRE Executive Committee, the President's Leadership Council at Jefferson, Zell/Laurie Real Estate Center of The Wharton School of the University of Pennsylvania, and is a licensed Real Estate Broker in Pennsylvania and New York.

Mr. Korman received his B.A from Duke University in 1987, and his M.B.A. from The Wharton School of the University of Pennsylvania in 1992.

Ira Lubert

Jay Minkoff

Jay Minkoff is chairman of the board and an operating partner at Houwzer, a residential real estate brokerage with a disruptive business model which is revolutionizing how consumers sell their homes. Jay plays a strategic role in the company advising on business development opportunities with home builders, marketing, funding and new market expansion. Jay has been an active entrepreneur in the regional and national real estate communities for the past 30+ years. A co-founder of Homebuilder.com (sold to Homestore.com, now move.com, in 1999), the first national online listing site for new home construction. His background includes creating the first national listing website for modular and manufactured housing, creating one of the country's largest developers of web sites for home builders, developing online and print directories of new home communities for real estate agents and publisher of the regional New Homes Guide and Apartment Shopper Guide consumer real estate magazines. Jay earned his MBA in real estate finance and entrepreneurial management from the Wharton School at the University of Pennsylvania and a BS in Civil Engineering from Tufts University. Jay's accomplishments include Tri-State Publishing & Communications ranking #91 on the [1990] Inc. 500 list, and featured in the Wall Street Journal, Philadelphia Inquirer, Main Line Today and on the Today Show and Good Morning America for his various business ventures.

Geoff Penske

Rachel Biblow

Rachel Biblow is the Senior Director of Patient and Family Services and Enterprise Co-Sponsor for the Patient and Family Experience initiative at the Children's Hospital of Philadelphia (CHOP). Rachel has strategic and administrative oversight for the operational and financial activities for: Social Work services, Family Relations, Language Services, Spiritual Care, and Family-Centered Care Programming, including Patient and Family Experience/Satisfaction, and hospital resource centers. Rachel is passionate about improving quality, safety, and the overall care experience in healthcare, serving on a variety of hospital committees; including Value Based Care and Quality Improvement Committees.

Rachel is a founding leader in establishing the National Pediatric Experience Collaborative in 2016. The Collaborative is a consortium of leading children's hospitals working together to improve and advance safe, high quality, and compassionate care experiences across all systems. She is an international speaker on Experience, Family-Centered Care, Social Work leadership, and has presented at multiple health systems and conferences.

Rachel leads the design, strategy, and implementation of an enterprise-wide experience initiative to improve overall patient and family engagement and satisfaction at Children's Hospital of Philadelphia. Through collaborative efforts, she's commissioned high-performing and cross-functional teams to establish organizational values and standards that serve as the foundation for the organization. These essential building blocks have catapulted necessary changes within recruitment, onboarding, and annual competencies. In her role, she has implemented necessary infrastructure changes to accelerate system and process improvement. She has driven tighter alignment with CHOP's leadership principles and the hospital's core values of Family-Centered Care to improve the overall care experience at CHOP.

Rachel holds a Bachelor's degree in Psychology, from the Pennsylvania State University and a Masters in Social Work from the School of Social Policy and Practice at the University of Pennsylvania. In addition to her work at CHOP, Rachel served on the Board of Directors for the Make-A-Wish Foundation of Philadelphia and Susquehanna Valley, where she also contributes as a volunteer wish-granter. She currently serves on the Board of Directors for Team IMPACT and volunteers through CHOP with Manna and the Ronald McDonald Camp for children and their siblings impacted by cancer. She served on the Children's Hospital Association executive Steering Committee for Service Excellence and currently participates on the Advisory Board for the Beryl Institute and on the Executive Steering Committee for the national Patient Experience Policy Forum. She is a member of the Society for Social Work Leadership in Health Care, National Association of Social Workers, and the Association for Patient Experience.

Elton Brand

Elton Brand recently retired from professional sports, having played 16 years in the NBA. He is currently the General Manager of the Delaware 87'ers and a consultant for the Philadelphia 76'ers. Prior to accepting his new role as GM, Elton was the CEO and Founder of BrandX Consultants which advised companies
in Sports,Film, and other business sectors. In 2017, Elton became a regional board member of Team Impact.

Marc Brownstein

Marc Brownstein / President & Chief Executive Officer

Marc has had a love affair with advertising since his first client meeting at the age of three. After graduating from Pennsylvania State University, he spent eight years as a copywriter in New York City – mostly at Ogilvy & Mather - creating award-winning work for AT&T, American Express, Hershey Foods, Time Warner, and Campbell Soup Company.

Marc returned to Philadelphia to join Brownstein Group as Executive Creative Director. A few years later, he became President & CEO, and grew the family business into a modern, brand-centric shop that prides itself on early innovation and an award-winning company culture. Under his leadership, the Agency has more than tripled in size, adding many blue-chip clients to its roster, including IKEA, Comcast, Lincoln Financial Corp, DuPont, Saint Gobain, RICOH, AmeriGas, Microsoft, eBay, Western Union, La Colombe, and United HealthCare.

Outside of the Agency, Marc serves as special communications advisor to Pennsylvania State University. He is also an active member of the board of directors of Brockmans, a UK-based spirits company; the Young Presidents' Organization (YPO); Ed Snider Youth Hockey Foundation; Greater Philadelphia Chamber of Commerce; The Satell Institute for Corporate Social Responsibility; Philly Ad Club; and Penn State University's College of Communications. Marc chairs the Arts & Business Council of Philadelphia and Mural Arts Program's marketing committee; Marc speaks regularly before industry and professional groups, and is a blogger for Advertising Age, the leading global voice of the communications industry.